How others are #Diamondbackready
Mention @DiamondBackCovers on Instagram for a chance to have your truck featured.
Always Ready
To Explore
Made from aluminum diamond plate, the DiamondBack SE truck bed cover won't crack like fiberglass or wear out like vinyl. With a 400 lb hauling capacity, you can conquer the outdoors in new ways while keeping your gear dry and secure in the bed of your truck.
Haul up to 400 lbs. on top
4 tie-down cleats included
Heavy duty diamond plate aluminum
Structural support members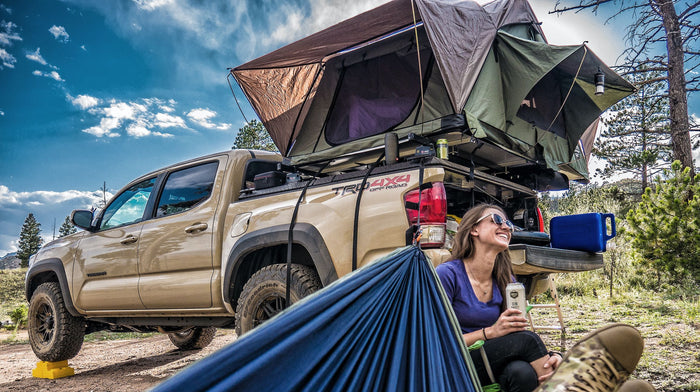 Dry Gear
No Matter the Weather.
A thick EPDM compression gasket runs along the perimeter of the cover to create a barrier to water, snow, or ice, keeping your cargo dry.
EPDM perimeter gasket
Gutter-protected hinge points
Side-facing key cylinders
Stainless exterior hardware

Your Stuff Is
Safe With Us.
Rugged, die-cast zinc lock handles on the access panels of a DiamondBack keep your gear secure by actuating 3/8" deadbolt-style rods directly under the bed rails of your truck.
Deadbolt-style lock system
Die-cast zinc lock handles
2 key locks
Tight and secure fit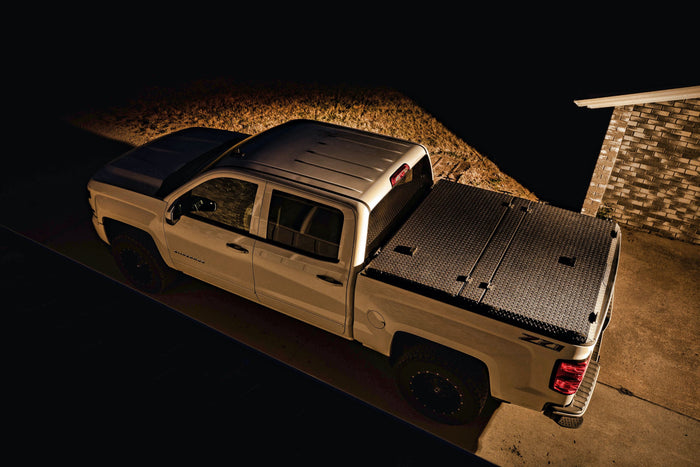 The coating we use is the exact same spray-on bedliner material used by Ford, Toyota and others for their new trucks before they leave the factory. The largest truck manufacturers have identified this material as the highest-quality coating on the market due to it being the most durable and hardest spray-on coating available. It's easy to clean and resistant to gasoline, diesel fuel, chlorine and paint. Plus it is environmentally friendly with 100% solids and VOC Free.
The difference is the aluminum underneath the spray-on coating. Rugged Black features diamond plate aluminum and Smooth Black features smooth plate aluminum.
Yes. Because DiamondBack covers rest on top of the cargo box's rails, bulkhead and tailgate and do not engage with the tailgate, opening and closing your tailgate while the cover is closed will be no issue. Even with a load on top of the cover. Auto-opening the tailgate via key fob may not work.
Yes. Those covers are rated at 400 lbs, so as long as you do not exceed that limit, you are good to stand or walk on top.
Not as vulnerable as you may think. We utilize flat-head machine screws and nylon lock-nuts to fasten our hinges to the cover. The nylon lock-nuts make it very difficult to loosen the screw from the topside of the cover only.
A DiamondBack cover will make the inside of your bed hotter than if it wasn't there. Anytime you remove flowing air from a space, the temperature in that space is more likely to rise, just as it is in your truck's cab.
We do not have any stocking dealers. DiamondBackCovers.com is the only authorized retailer, unless otherwise stipulated. For questions on ordering, contact us at 1-800-935-4002.
Yes, with one exception. In addition to the neoprene gasket that's pre-affixed around the perimeter of your DiamondBack truck bed cover, most late-model pickups will need a single piece of weatherstrip applied to the top of the cargo box bulkhead before the DiamondBack is installed. This piece of weather strip is shipped along with every cover we sell.
Not hard. You'll need to know how to use a hex key, a socket wrench, and in the case of DiamondBack 270s and DiamondBack 180s, a drill. It also helps to have a second person present. Please have a look at our installation guides for more details.
Yes. In fact, we ship to houses more than to any other kind of destination. Since a delivery signature will be required, the freight carrier will call ahead to schedule a half-day appointment when they know someone will be home to sign.
Product Specs
Hauling Capacity
400 lb. dynamic load rating
600 lb. static load rating
Dimensions
Overall Length: 101.125"
Overall Width at Cab: 71.625"
Overall Width at Tail: 68.625"
Cab Panel Opening Size: 63.625" × 36.3125"
Tail Panel Opening Size: 61.625" × 35.3125"
Construction
.080" 3003 alloy aluminum grade
2–3 structural studs
4 anchor cleats (optional)
EPDM compression gasket
Stainless steel hinges and external hardware
3/8" steel lock rods
Die-cast zinc, keyed lock handles
5356 alloy TIG welds
In the Box
DiamondBack SE (assembly req'd)
Gas springs (4)
Cap clamps (2–4)
Edge trim pieces (0–4)
Bulkhead weatherstrip (for most)
1/8" hex key
Mounting brackets (0–2)
Striker brackets (0–2)
Installation Time
≤ 90 min
Removal Time
≤ 10 min
Warranty
We build the toughest truck bed covers on the market and we stand behind them. DiamondBack products come with a limited lifetime warranty which covers both the manufacture and parts of the cover.
Learn more
Compare
Discover the best DiamondBack for you.
Compare