Fold it up
Easily fold Switchback in seconds with its bi-fold design and open up most of your bed to haul bikes, dirt bikes, oversized cargo, and stuff you want bed walls for.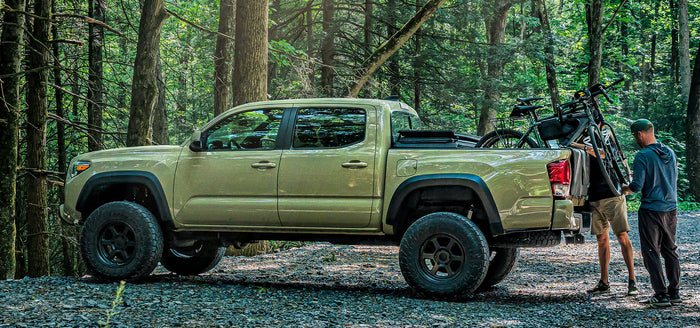 Strap it down
Use the brackets and included tie-down straps to secure your folded Switchback while driving.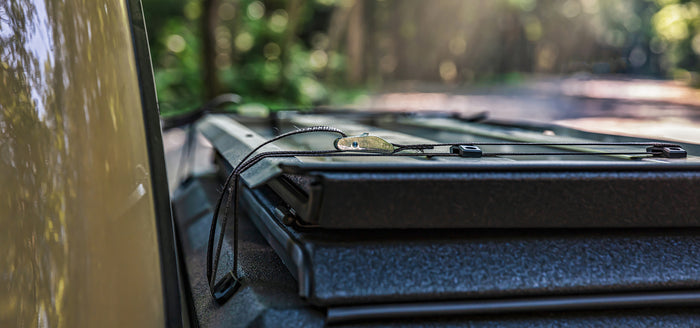 Gooseneck Ready
The first DiamondBack designed to work with gooseneck and 5th wheel trailers.
Security in the middle
The Keep 'Em Honest Latches provide pry-resistant security in the middle of the Switchback.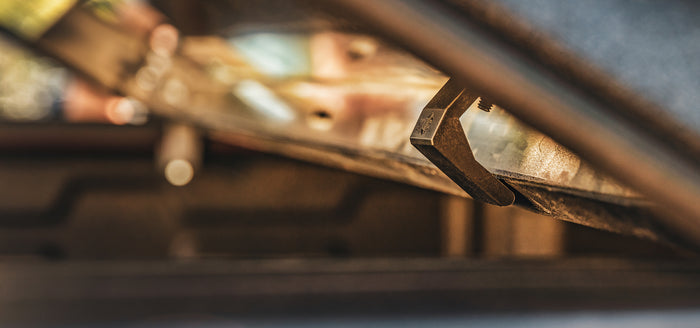 Clamp jaw handles
Switchback locks to your truck bed with easy-to-adjust clamp jaw handles inside your truck bed keeping your gear safe while you explore.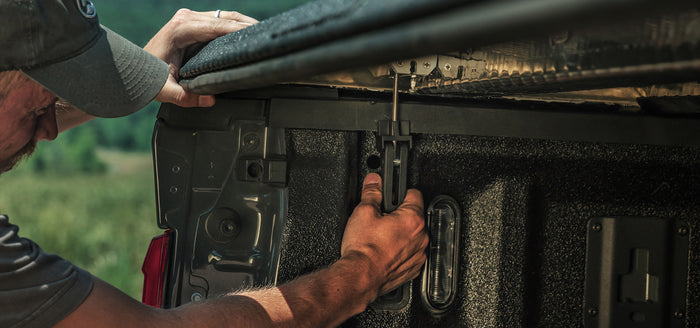 A barrier to weather
With a full-perimeter EPDM compression gasket, Switchback keeps your gear dry.
Durability to haul on
With a 400 lb. hauling capacity, Switchback helps you get more work done.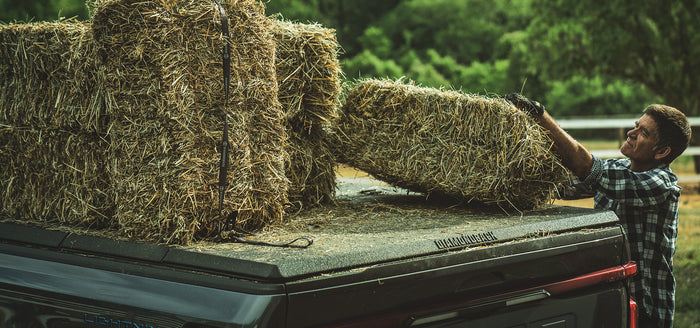 Built-in Anchors
Strap down cargo to Switchback using the 4 Anchor Plates located on the front of the cab panel and tail panel hinges.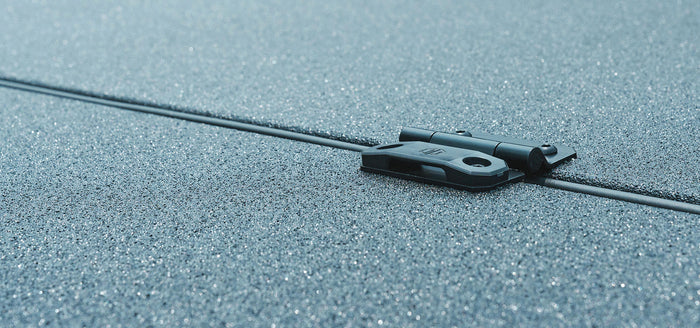 No. Switchback comes with 4 Anchor Plates, a low-profile version of our Anchor Cleats, to strap cargo on top. There are 2 at the front of the cab panel and 2 on the tail panel hinge. Additional Anchor Plates can be installed on Switchback and will be available soon. Anchor Cleats are not compatible with Switchback due to their height which prevent the cover from completely folding.
Yes. After folding and securing the cover with the included tie-down straps, remove the cap clamps and lift the folded cover off your truck.
Most likely, but you might need to make some changes to your setup. We recommend reviewing the stacked height and completely folded, gutter to tailgate dimensions of Switchback for your truck and compare it with your trailer setup to determine potential collision. In some cases, you may need a slider hitch for 5th wheel trailers or an offset hitch for gooseneck trailers.
No. The tracks of the rack system will collide and prevent the panels from folding.
The coating we use is the exact same spray-on bedliner material used by Ford, Toyota and others for their new trucks before they leave the factory. The largest truck manufacturers have identified this material as the highest-quality coating on the market due to it being the most durable and hardest spray-on coating available. It's easy to clean and resistant to gasoline, diesel fuel, chlorine and paint. Plus it is environmentally friendly with 100% solids and VOC Free.
The difference is the aluminum underneath the spray-on coating. Rugged Black features diamond plate aluminum and Smooth Black features smooth plate aluminum.
No. The cab panel is clamped to the bed rails.
We decided to keep the panels of Switchback light and easy to fold. If you're looking to haul 1,600 lbs on top of a DiamondBack, you should buy the DiamondBack HD.
Yes. Switchback has a 400 lb dynamic load rating and a 900 lb static load rating. As long as you do not exceed these limits, you're good to stand or walk on top.
Not as vulnerable as you may think. We utilize flat-head machine screws and nylon lock-nuts to fasten our hinges to the cover. The nylon lock-nuts make it very difficult to loosen the screw from the topside of the cover only.
A Switchback cover will make the inside of your bed hotter than if it wasn't there. Anytime you remove flowing air from a space, the temperature in that space is more likely to rise, just as it is in your truck's cab.
Yes, with one exception. In addition to the neoprene gasket that's pre-affixed around the perimeter of your Switchback truck bed cover, most late-model pickups will need a single piece of weatherstrip applied to the top of the cargo box bulkhead before the DiamondBack is installed. This piece of weather strip is shipped along with every cover we sell.
Not hard. It takes 15 minutes and you can do it all by yourself. You'll need to know how to use a socket wrench, and that's about it. Please have a look at our installation guides for more details.
Yes. In fact, we ship to houses more than to any other kind of destination. Since a delivery signature will be required, the freight carrier will call ahead to schedule a half-day appointment when they know someone will be home to sign.
Product Specs
Hauling Capacity
400 lb. dynamic load rating
1,200 lb. static load rating
Dimensions
Length: 72.125"
Width at cab: 71.625"
Width at tailgate: 68.625"
Total weight: 82 pounds
Folded Dimensions
Stacked height: 6.625"
Completely folded, gutter to tailgate: 39.15"
Tail panel folded, gutter to tailgate: 16.84"
Construction
.080" 3003 aluminum alloy
5-6 structural studs
4 Anchor Plates
EPDM compression gasket
Stainless steel hinges and external hardware
5356 alloy TIG welds
Keep 'em honest latch
2 clamp jaw handles
In the Box
DiamondBack Switchback
Cap clamps (4)
Tie-down straps (2)
Installation Time
15 min
Removal Time
5 min
Warranty
We build the toughest truck bed covers on the market and we stand behind them. DiamondBack products come with a limited lifetime warranty which covers both the manufacture and parts of the cover.
Learn more