Archery, America, And The Great Outdoors
hunt
---
Anthony P. from Oklahoma
Being an active military service member, bowhunter Anthony is no stranger to challenging environments. During his years serving this great country he's found himself stationed all over North America, sharpening his archery chops every step of the way. Gaining knowledge from experiences across different harsh landscapes and climates. These experiences have all raised the bar of what he requires out of his trusted gear and tools. When it came to the bed setup of his 2017 Toyota Tacoma, the standards were no different.
There are a lot of truck bed accessory options out there. Ultimately, what drove you to DiamondBack?
Anthony: I was on the hunt for a superior tonneau cover. I used to have a cheap tri-fold that I inherited when I bought my truck. I was constantly folding it up against the cab anytime I needed to carry anything oversized because it couldn't hold any weight, it was in the way with little to no versatility. The load bearing/utility aspect of a DiamondBack really drew my attention. I liked the thought of a bed cover that could actually be used as a tool. Since buying my DiamondBack I've hauled countless things and never looked back.
While we may all dream 24/7 about that one spot, or our next outing. On a typical day, where would we find you?
Anthony: In the cargo compartment of a USAF C-17, unfortunately I haven't been able to get the truck into the plane with me. Yet…
Tell us about your favorite gear and gadgets that cost under $100.
Anthony: I have a Victory 4x4 Center Console Panel. The DiamondBack does an amazing job of expanding the secure storage of my Tacoma outside the cab, but from the factory the storage options inside the Tacoma are pretty lacking.
On the driver side I have an admin pouch, which always has chapstick, knife, lighter, pen, multitool, and other odds and ends. On the passenger side an O-light is mounted, with a couple hair ties for my three year old daughter at-the-ready.
Give us an inside look at your bed setup. What are some things we can always count on finding underneath your DiamondBack?
Anthony: I have a shovel and a Fiskars camp axe mounted to the side of my bed. They've both been back there for about 5 years now and have used both countless time. No matter where you live, you never really know when something like that can come in handy. With my DiamondBack, I have peace of mind knowing my truck is always outfitted up with my essentials.
Tell us about one hunt that you'll never forget?
Anthony: A few years ago, I was out hunting with my son, and I managed to shoot a nice 8-point buck at last light. However, when we finally located the deer, we faced a dilemma; the bed of the truck was already packed to the brim with all our hunting gear. In a creative solution, we ended up tossing the deer on the Diamondback cover and drove it to the processor. It was an unusual sight, but it did the job.

Fast forward two days later, and we found ourselves reusing the Diamondback cover for an entirely different purpose. This time, it served as the perfect platform to transport our family's Christmas tree, adding a touch of holiday cheer to it's versatile utility.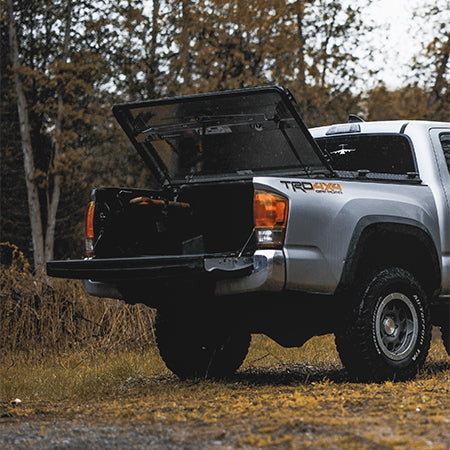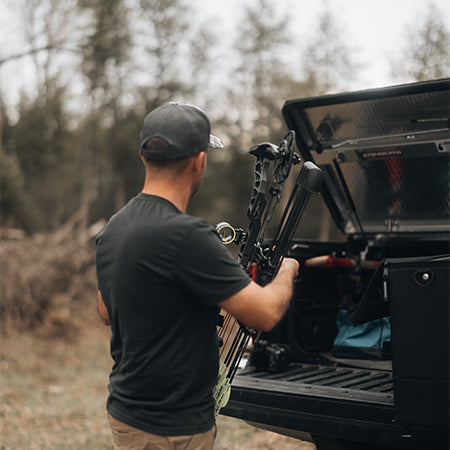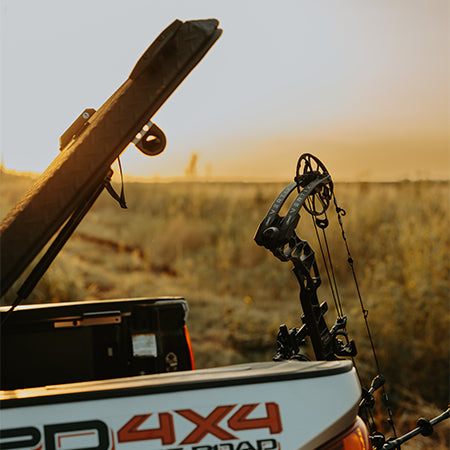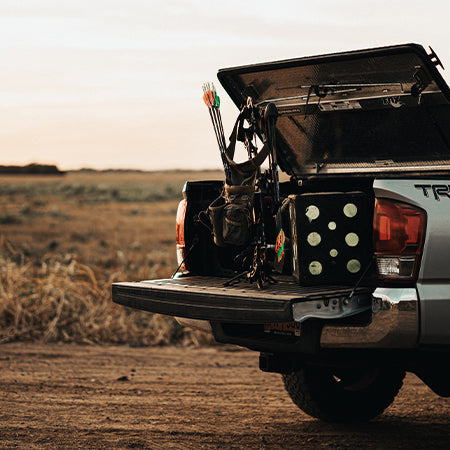 Anthony's DiamondBack Setup